Get our exclusive updates.
Valuable ressources
Hey backers,
We've got big pressure from everywhere to ship those sweet earbuds as fast as possible. Would it be awesome to enjoy them for this upcoming summer? Hell yeah! That's why we're maximizing everything we got to fix the antenna challenge.
DEVELOPMENT STATUS
You guys have been tremendously patient and that's why we're putting everything aside (including our evenings & weekends) to make these earbuds a reality ASAP. As pointed out a few weeks ago, we basically fixed everything in the earbuds… the only thing stopping us from going to production is the antenna (Bluetooth connectivity). It's good, but not good enough for you guys to enjoy great music. As stated before, the vast majority of wireless earbuds out there are plagued with annoying breakouts.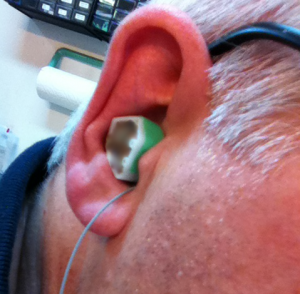 Sylvain is putting the uncovered earbud. Look at the fit and how small it is. The electronics inside have been blurred for confidentiality purposes. The wire is for testing the radio frequency power.
Here's the catch:
The antenna needs space to work properly. Our earbuds are so small that everything is tightly packed.

Our special form factor, which offers a perfect fit and that we believe is really good looking, is super hard to fit a standard circuit board in – combined with an antenna.

There is a humongous difference between the theory of how an antenna circuit tuning should perform and how it really does in the real world.
The antenna challenge has been bugging us for a while, here's what we did to resolve that:
We switched to a new type of antenna, making the connectivity insanely better (yet to fine tune);
We met with the technical team of one of the world's largest PCB manufacturer, giving us valuable feedback for the design of the antenna;
We consulted the best antenna manufacturers;
We developed a mathematical modelization of the antenna circuit, showing promising results;
We're sending back our lead electronic designer (Sylvain) to China so he can finish everything in there, with valuable and skilled assistants;
Since this is such a nanoscale product, we hired a physicist to help us complete the project and get all the material needed for perfect antenna optimization.
CHARGING CASE
We succeeded in drastically improving power consumption of the charging case. Most charging cases out there experience "Vampire draining" issue. In layman's terms, even if you charge the batteries included in the charging case, they're going to drain very fast, often within a week.
For example, let's say the 4 extra charges included in the charging case are fully charged. Before: you don't touch them for a week, the batteries will die in a week or so. Now: the batteries will last about 100 days if unused.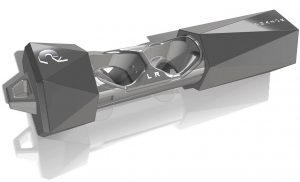 Final look of the charging case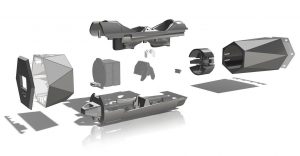 All the components inside the charging case
WATERPROOF vs WATER RESISTANT
Besides our look and great fit, the waterproof is also a big differentiator for us. But what is exactly the difference?
Waterproof: impervious to water. In other words, absolutely no damage done when the water is all around.
Water resistant: able to resist water to some degree but not entirely. In other words, you could drop them a few sec in water and it should work again. However, you can't swim or run into the rain and hope it would be just fine.
Making the earbuds waterproof is a challenge by itself. That's why so few earbud out there can make that claim. With custom made parts and with the help of a manufacturer, we nailed this down 😉
LOGO
With a lot of iterations, the design team (mainly Chris) designed the new logo for Phazon.


Hope you like it 🙂
We're super fan of our backers, clearly the best. We understand it's tough but we can assure you we won't let anyone down.
Join our waitlist now
We will inform you when the product arrives in stock. Just leave your valid email address below.