Small & Focus
Saluton! (Hello in Esperanto)
We can see & feel you have high expectations for our product. It's okay, we want to make it truly awesome too!
We're quite a small team – only 5 working full time right now. We're small, yes, but super talented and incredibly focused, working around 80h/week. We plan to hire additional people in the future but at this point, we'd spend more time training them than getting ready for the final production steps.

Our days are crazy loaded, that's why we appreciate so much your good comments. That fuels us to push ourselves even further. Again, thanks!
SHIPPING STATUS
We've ordered another run of prototypes to our assembler. This is the same electronic design, but we need to double check if our components are optimized for the Bluetooth connection and battery usage. A final design will come in about 3 weeks.
So now, the big burning question. Late November is still our schedule. It depends on this run of working prototypes and the new design. We'll know a lot more in the 2 weeks. The decision about the microphone will also be announced in the next update.
EARBUD TIP
The addition of the earbuds tip is really only for the sound quality. It has nothing to do with our fit, not even a bit. In a previous update, we showed you wired earbuds for testing sound quality. With the exactly same shape, we put an earbud tip on top of it and there was an extreme difference – even for non-audiophiles.
We'll implement a silicone transparent tip on top of the audio output, similar to the one below.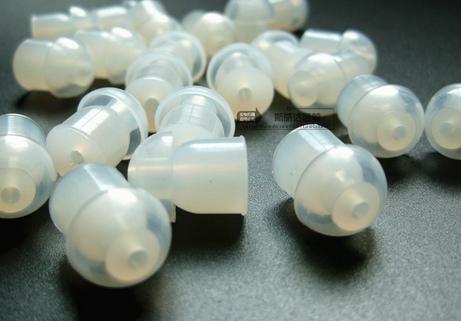 No worries, it's definitely not going to be this big (we did not have the exact photos in time for this update). We're talking about just the top of the mushroom. The tip of the tip, in other words, and it's a small tip, not one of those invading soft thingies that fill our whole ear. The tip will be fixed to the earbud and you'll still be able to hear the outside noises.
PACKAGING
As mentioned previously, we'll go with a basic package so it won't cause a delay in the shipping. Eventually, we'll go with something more elaborate so please give us your feedback on 2 concepts (10 secs), right here.
COLOR SELECTION
Click here.
PHAZON.COM
Indiegogo is a great platform. We love it, no question about it.
However, we're looking to go on our own because we're building a company, not just a one-time product.
We recently launched our new website, phazon.com
We'll improve the site every week, so all comments are welcome.

So guys, let's do this all together 🙂