Hallo backers,
We stopped videos with cool intros for a while. We're gladly showing you a new one. Thanks to Edge Dimension for their incredible 3D rendering in the intro and Otakus & Geeks for the interview at the CE Week.

Watch it here or right below!
You'll notice at 0:33 and 1:16 close up shots of the earbuds. Please note the earbuds colors are based on the renderings. Shortly before we ship, we'll put photos of the exact real colors of the earbuds AND remind you to update your colors if you feel like it.
SHIPPING STATUS
Out of the 3 batches of PCB we ordered last time, 1 already arrived (the 2 others will come in around 1-2 weeks). We're pleased to say that, while not perfect, they are up to the task to be assembled. Therefore, we'll be able to do advanced testings on all the electronics and make sure we get it right. Most probably in the next update, we'll show you a video of the miniature working prototypes. November shipping is still our target.
COMPETITORS
You might have noticed that there are few truly wireless earbuds on the market right now. We've been testing their products and noticed a major failure. Their Bluetooth connection is not working great. In fact, you can hear the signal breaking pretty often. That's why they're getting poor ratings of 2.5-3 out of 5 stars from third parties. They got the product out too fast. The connectivity issue is something we'll clearly avoid. We would love to show pictures of the whole PCBs showing the tech – but we have to keep it secret. Let me tell you that I'm uber proud of our electronic design – it's magnificent and groundbreaking.
WARNER BROTHERS
We're glad to announce a partnership with Warner Brothers (WB). WB is behind some great franchises such as Batman & Mortal Kombat! They'll help us scaling in terms of marketing, design and PR.
NEXT UPDATE PREVIEW
miniature working prototypes;
logo tweaks;
packaging & t-shirts survey.
To tease you guys, here's a near-finished draft design for the t-shirt, which 1,000 of you will get for FREE! (more details to come).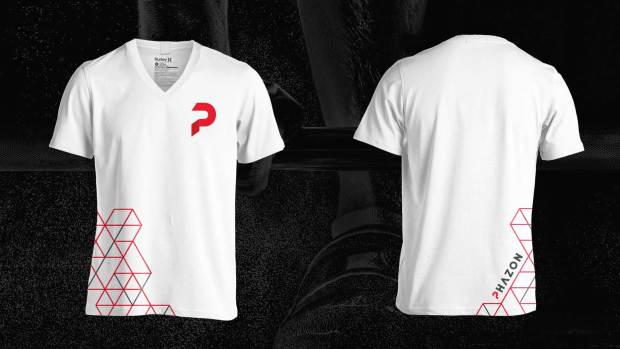 We feel that the backers should be proud to wear our t-shirt with the basic Phazon identity (look & feel) instead of a standard corporate logo.
Shazam!