Get our exclusive updates.
– NEW STRETCH GOALS – (need to reach $1.2M)
Yes, you have read correctly, we have not 1 but 2 stretch goals!
The first stretch goal was hardware related while the second was software related.
This time, we are incorporating both!
1ST: BATTERY LEVEL INDICATOR
At Phazon, customer experience is a top priority. Many of you requested a battery level indicator. This is indeed really handy when you're about to go on your workout. You want to make sure you'll have enough battery power to tough your whole workout. So if we reach $1.2M, you'll have a battery level indicator directly in the Phazon app!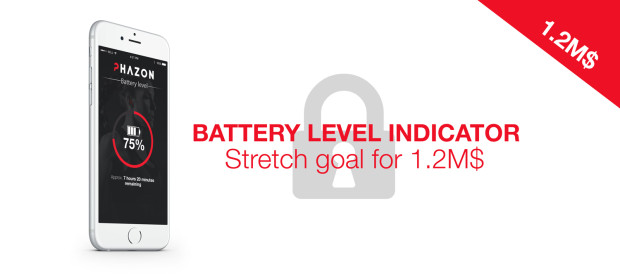 2ND: T-SHIRTS GIVEAWAY
Usually, when playing sports, you wear a t-shirt. But, what if you had a Phazon t-shirt? You just might have super powers, who knows?
That's why we're offering up to 1,000 FREE Phazon t-shirts. We'll provide more details after the campaign ends on how to get them (again it is totally free).

From the Phazon team, we wish you a Happy New Year!
P.S. Your favorite uncle might want to know about the Phazon earbuds since he decided for his 2016 resolutions to hit the gym 🙂
P.P.S. We got featured as the top 5 startups to watch in 2016! Check it out: http://www.techvibes.com/blog/gotomeeting-five-2015-12-30
Join our waitlist now
We will inform you when the product arrives in stock. Just leave your valid email address below.