Let's do this
Oh boy,
So much to say, the 2,500 characters update limit is killing us!
Let's jump in asap.
SHIPPING STATUS
The last 2 weeks have been spent on finalizing the electronic design of the PCB (printed circuit board – aka the green wafer). This took us more time than we anticipated. We thought we could have a single version of the PCB for both earbuds. Due to space constraints, we needed to design a second PCB. And this is not a simple copy/paste, flip the y-axis…. hell no!
We believe this is the final version of the PCB.
I'm glad to say that this final version has been sent to our manufacturers. BTW, there were only 2 manufacturers in the world that could handle our super advanced PCB.
We should expect 3-4 weeks lead time to manufacture the PCBs and assemble them. Then comes testing and final approval.
Shipping end of January 2017 (which was the realistic scenario) holds strong.
DRAGONS' DEN
A few months ago, we've been picked by a national TV show called Dragons' Den (Canadian version of Shark Tank in USA). You basically pitch in front of super successful business people and they invest or not in your project.
We're super excited to say we've been chosen to be part of the show! Only a fraction of the projects are featured on TV.
Chris got the opportunity to pitch in front of them for about 45 min. Probably 3 to 10 min of his pitch will be broadcasted.
For a sneak peak of that, check this out:
WHEN: November 23rd at 8PM EST on CBC. For the non-Canadians backers, we'll post the link on our Facebook page shortly after it's aired.
SUPERBACKERS PROGRAM
We had a rough time nailing down the supply chain & the tech to make this project a reality.
Many of our backers kept supporting us during the good and hard times. We infinitely appreciate this support.
That's why we're going to implement by the next update, a program to thank the backers who showed their support and to encourage everyone who will keep the good Phazon vibes going. Benefits? Cool perks.
CHARGING CASE
We brought more sexiness to our charging case design, here it is!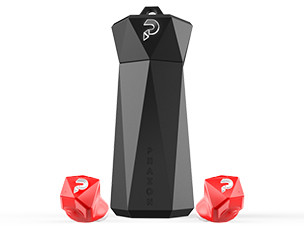 BETA TESTERS
Before shipping, we want to make sure the product is as good as it can be.
To do this, some of our backers could be chosen as beta testers for mid-December.
Requirements to be among the chosen ones:
1- Be a backer
2- Be willing to come in downtown Montreal in mid-December
If you qualify, you could help Phazon ship the best earbuds for active people.
Please add your email here.
Peace out 🙂