Get our exclusive updates.
Implementing drastic measures
Dear backers,
Our main focus since the beginning has been to deliver a superior product as rapidly as possible. The rapid part hasn't been a success so far. We found a way to accelerate.
SHIPPING STATUS & FINAL PROTOTYPE
In the last update, we mentioned the January schedule might be pushed. We do confirm it's now pushed. When is it happening then? Valid question, complex answer.
Right now, the antenna connectivity is as good as early products in our market, which means not good enough to ship a quality product. The issue comes from that fact that our earbuds are about half the size of most true wireless on the market.
What's the point of this race to the smallest shape? The fit. The smaller it is, the more likely it's going to fit. We got insider info that other products fit correctly 50-70% of people. Fit is a pretty big deal since there are no wires to prevent true wireless from falling out. I'm glad to say that we're now experiencing a fit of over 95% with our final form factor.
We took drastic measures to solve this last issue ASAP.
1- The tech team is moving to China, in our manufacturer's facility.
2- This facility will provide us additional resources (engineers and machinery) entirely dedicated to our project.
This way, we'll do everything 5 times faster than we do now. It's pricey but worth it to ship faster.
That being said, we can't pinpoint a specific date for sure. It all depends on the tweaks on the final prototype to improve connectivity. Delays are extremely annoying for both you and us. Our new shipping schedule will start in March. We got all the financial resources to get this done and ship to everyone.
CES
Our main goal for this worldwide event was to meet potential distributors and retailers.
We got a lot of attention and they clearly want our product in their stores – after we ship to you.
We also generated some buzz, including Macworld and PCWorld.
SUPERBACKERS
Again, backers support is essential to us.You're all incredibly patient and supportive. We certainly appreciate those who show public support.
A new free perk for superbackers: we'll pay a trip for 2 people to our office in Montreal. It's actually the golden earbud perk. You'll visit our office, see behind the scenes and get to know Montreal, obviously after shipping has started.
BETA TESTERS
Okay, so we received 19 responses out of the 23 emails links we sent for the survey.
Here are some snapshots: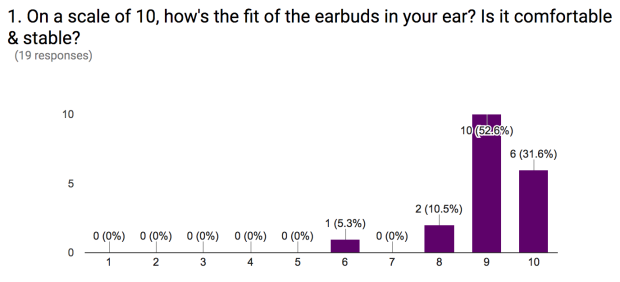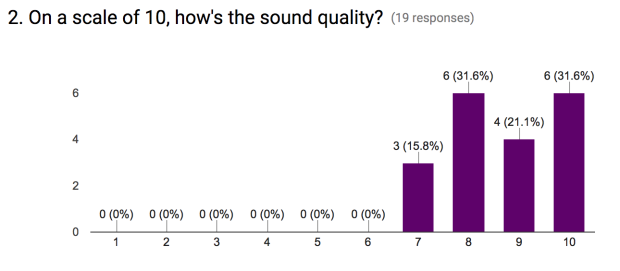 Here is also a quick video from one of our beta testers:
-Phazon-
Join our waitlist now
We will inform you when the product arrives in stock. Just leave your valid email address below.