Get our exclusive updates.
10 DAYS LEFT! + referral program
The incredible crowdfunding journey of Phazon will end soon.
Yes, the 10 days remaining will go by really quickly. Fortunately, you  made it in time to benefit the huge discounts available ($199 retail price).
Hey, there are probably family members or friends of yours that would like to get them. Well, we got something special to reward your sharing skills.
Introducing the referral program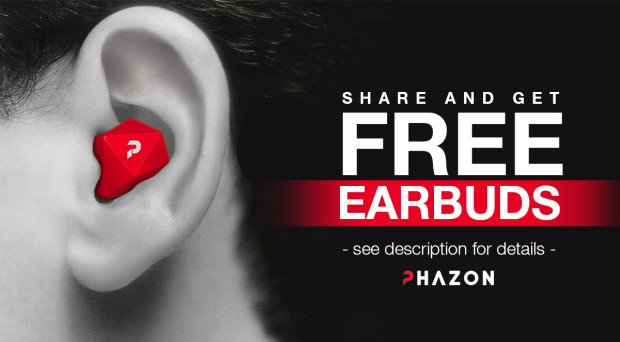 We've recently implemented a very interesting program… You could get FREE EARBUDS!
Here's the procedure (3 simple steps):
1. Go at our page: http://igg.me/at/phazon
(If your name doesn't appear on the top right corner of the page, make sure to Sign up/Log in)
2. Use the sharing buttons situated on the left-hand side
(Facebook, Twitter, G+, Email or Link)
3, If 3 of your referrals buy our earbuds, you get a free pair – or a cashback (value: a set of earbuds)!
Yes, it's that easy!

How do we keep track of your referrals?
By using the sharing buttons on the left-hand side of our page (step 2), a hidden tracker is included.
*We'll contact you to know if you prefer the free pair or a cashback
**Applies to any perks available
*** Shipping fees still apply
****Sharing links are only available on a desktop computer or laptop
———————————————————————————————–
We would like to thank Shane Liddell from Smart Crowdfunding for his precious advices! If you plan to do a crowdfunding campaign or know a friend who will, check out his website! http://www.smartcrowdfunding.us/
Join our waitlist now
We will inform you when the product arrives in stock. Just leave your valid email address below.